My crazy 'Covid screen' project
How I made a transparent partition — to split our living room into two sealed spaces — in several weeks of anxious, painstaking work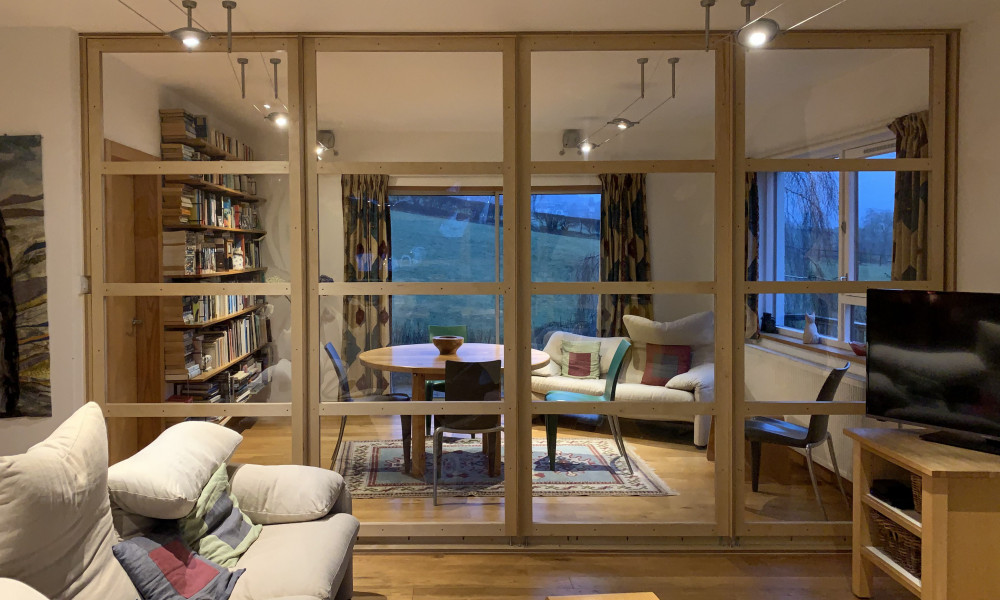 ---
I first had the idea of building a screen for our living room back in November 2020, when the UK was struggling to control the Covid-19 pandemic, and about to re-enter another (tragically) delayed lockdown.
Our living room has a French window which directly accesses our garden. I wanted to find a way of splitting this room in two, by building a demountable screen across its middle — so our friends or family could enter on one side through the French window, and M and I would be on the other, with both sides protected by the transparent screen between us.
To be safe and effective, this screen would have to be completely sealed, with a large transparent window area, and still have very good sound transmission
I discovered a UK source for clear plastic material, just 0.6 mm thick, in large 2050 mm x 1250 mm sheets. The other key component was closed-cell draught excluder tape, which I experimented with endlessly — sandwiching the clear plastic sheet between two plywood layers, along with continuous strips of tape butted together, to form a huge air-tight gasket.
As a test I bought one sheet of clear plastic, and built a full-size prototype screen across the door to another room in our house, which also has access to the outside.
M and I experimented with talking to each other through this prototype screen. We were super-excited at how well it worked! Sound transmission was amazingly good, much better than thick plastic or glass panes. Normal conversations, with only marginally raised voices, worked just fine.
My struggle to build this screen
I began designing, sourcing, and building the full sized screen at the end of November. My objective was to get it finished by Christmas, ready for our usual celebrations with our children and grandchildren.
I spent many stress-filled days making prototypes of alternative sealed joints, searching the internet, and experimenting with different closed-cell 'draught-excluder' tapes.
I worked as long and hard as I could on its construction, until eventually, just a few days before the 25th of December, I gave up, with only two of the four modules completed — exhausted and depressed that I had failed to meet my self-imposed deadline. (As it turned out, only two of our family could be with us on Christmas Day, and we used our prototype screen instead.)
My mixed feelings now it's completed
After Christmas, I lost both January and February to this depression, and I didn't manage to finish the screen's construction until mid-March 2021.
So far we've only used it a few times, and although it's worked really well, its continued presence in our living room still triggers many conflicting and irrational feelings:
I'm pleased with my design — it's got a nice lightweight appearance, yet it's amazingly sturdy and solid.

I'm also proud of its modular construction, with all its air-tight seals neatly screwed together with (hidden) pocket hole joints. It can be easily dismantled, leaving almost no trace, just a few screw holes.

Yet, I secretly feel embarrassed, that I'm asking my family and friends to submit to a weird 'Silence of the Lambs' regime.

I'm angry with myself, that I took so much time making the screen, agonising about its design, and even sanding and sealing it, although it's only a temporary fixture.

And, last but not least, I've been irrationally anxious (I've even had nightmares) that a few tiny pin-holes might put my family at risk.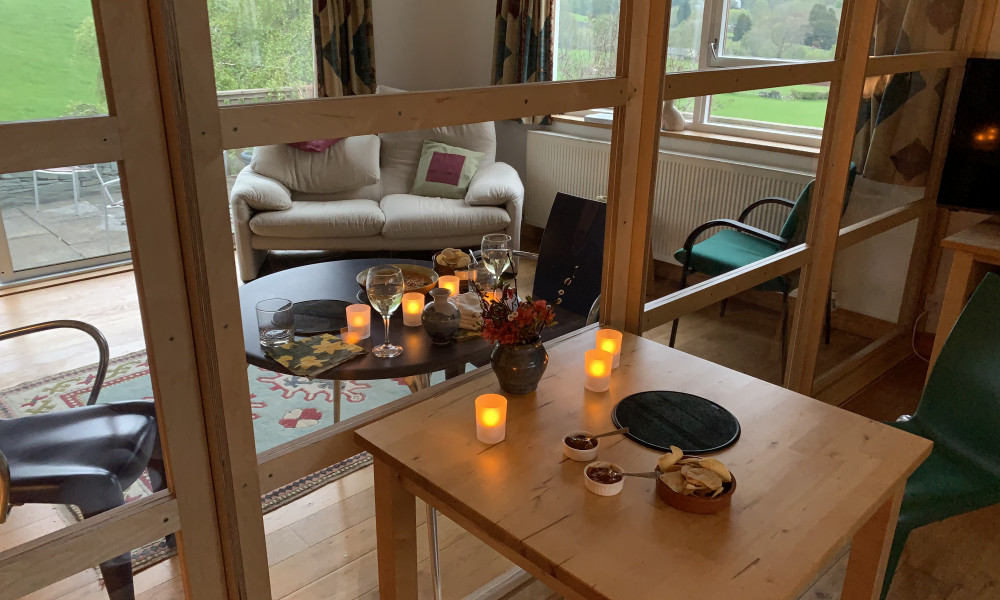 Thankfully, with increasing awareness of the importance of indoor ventilation, I'm now feeling more reassured about my screen's safety.
Also, I've gone to great lengths to make its construction as air-tight as possible. We've always ensured that both sides of the screen are well ventilated before, during, and after use.
Nevertheless, I still feel conflicted about my Covid screen. I hated having to make it, yet I'm proud of its design and construction. But crucially — it's enabled our family to have several wonderful get-togethers, with a reassuring level of safety.
Maybe writing this blog post will put my demons to rest? Or, could something in its design be useful to others?
Materials and sources
Birch plywood: 18 mm x 2040 mm x 1020 mm, three or four sheets bought locally.
Clear plastic: 0.6 mm aPET sheets, 2050 mm x 1250 mm. I bought four sheets in the UK from eBay, and I've since seen them also on Amazon.
D-section tape: closed-cell, self-adhesive, draught excluder tape, 6 mm x 9 mm, which I bought in the UK from Amazon.
Flat section tape: closed-cell, self-adhesive, draught excluder tape, 2 mm x 18 mm, can be split into two 2 mm x 9 mm tapes, which I bought in the UK from Amazon.
All the plywood components
My sketch below shows how all the plywood components are assembled (except, for clarity, I've only drawn one inner frame):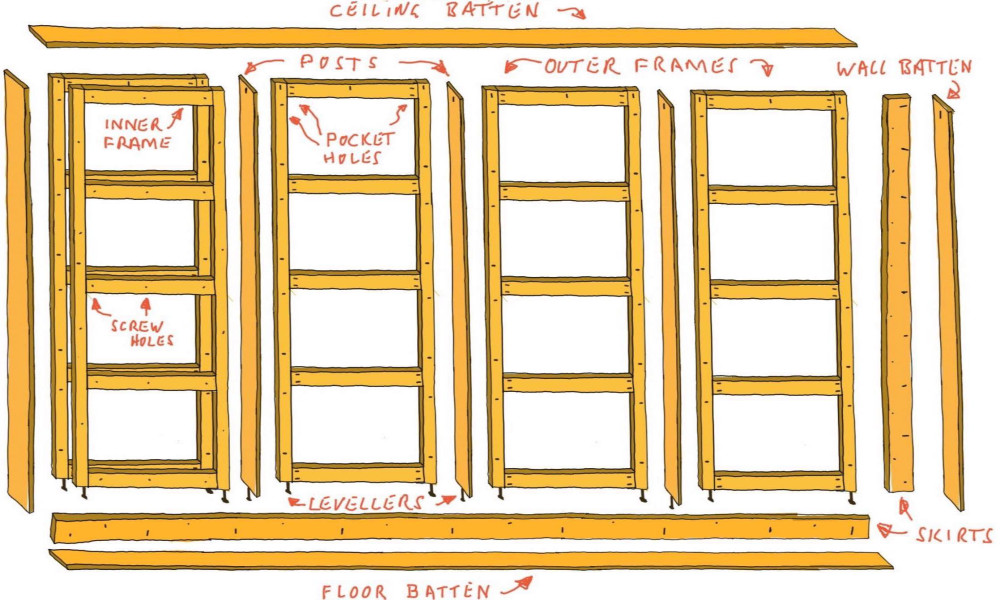 Construction notes
---
The screen is constructed entirely from 18 mm thick birch plywood, which I sliced, lengthwise, from several 2440 mm x 1220 mm sheets, into the 60 mm, 75 mm, and 95 mm widths needed for the different components. I used a Festool track saw, setting the guide rail for every cut with a little plywood gauge I made for each width, to ensure a high level of repeatable accuracy.
The dimensions for each component were calculated backwards from the room dimensions, allowing for the sealing tape's thickness, and leaving a few centimetres' gap next to the floor and right battens, to be covered by the outer 'skirts'.
I sanded and sealed every finished plywood component, mainly to make sure the draught excluder tape adhered well.
The left wall and ceiling battens are 75 mm wide, cut to a precise length that ensures a tight fit in the room, with just enough gap to compress the sealing tape in.
The floor and right wall battens are 95 mm wide, to allow for the thickness of the 'skirts' which cover and seal the gap on the outside surface of the screen.
I used the D-section self-adhesive draught excluder tape to seal the joints between the battens and the walls, ceiling and floor. I stuck this tape all round the four edges of the face side of the battens, butting the tape at each corner to avoid pin hole leaks.
I screwed these battens to our plasterboard walls using cavity fittings, and with wood screws to our oak floor, carefully adjusting the screws to allow the sealing tape to compensate for minor irregularities in the room's surfaces.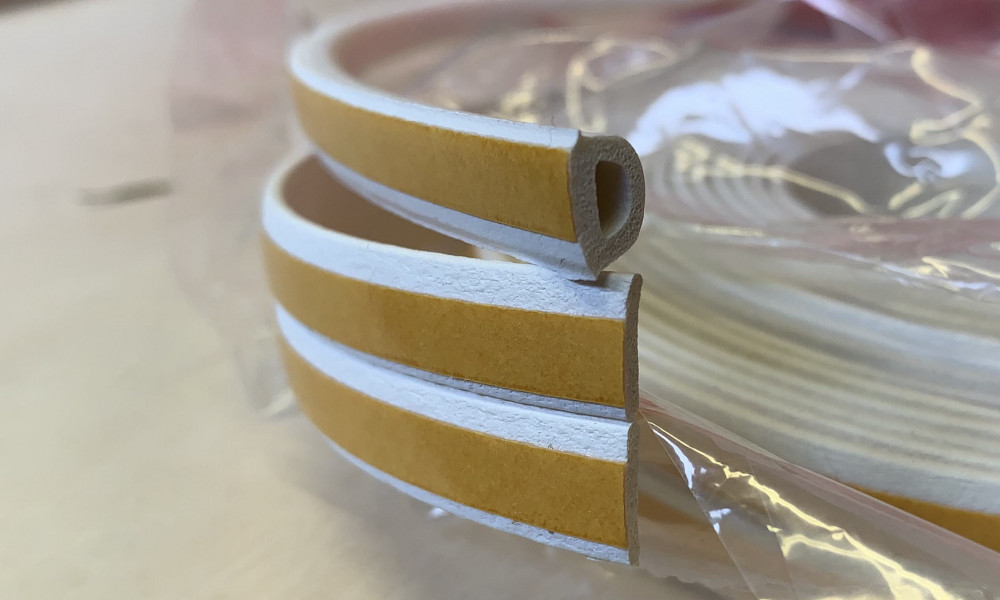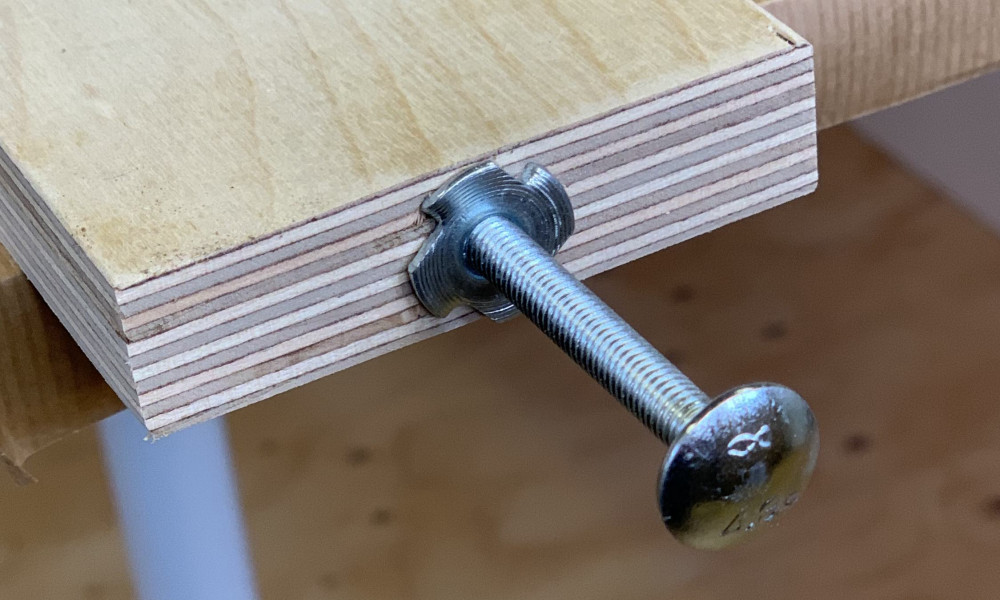 ---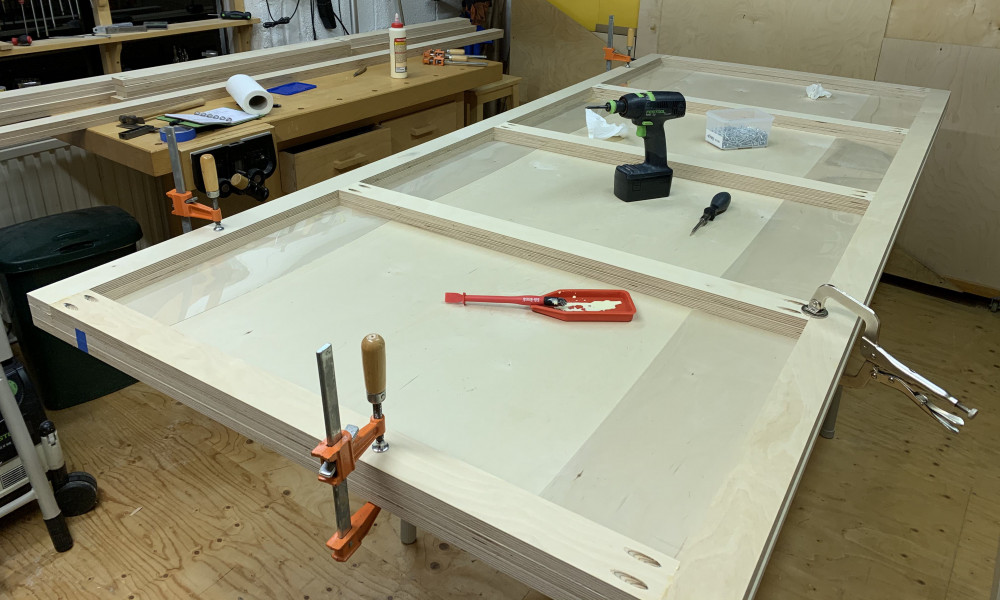 I made eight 'frames' from 60 mm wide plywood battens, using glued-and-screwed pocket hole joints throughout. Every frame is identical — I assembled and checked these using the first frame as a template.
I cut the three 75 mm wide 'posts' to the same height as the frames.
I fitted simple 'levellers' to the foot of the outer and inner frames, and all the posts, consisting of a M6 x 100 mm carriage bolt, screwed into an M6 T-nut, fitted in a 100 mm x 8 mm hole. These worked brilliantly to support the frames on the floor batten, and to aid assembly.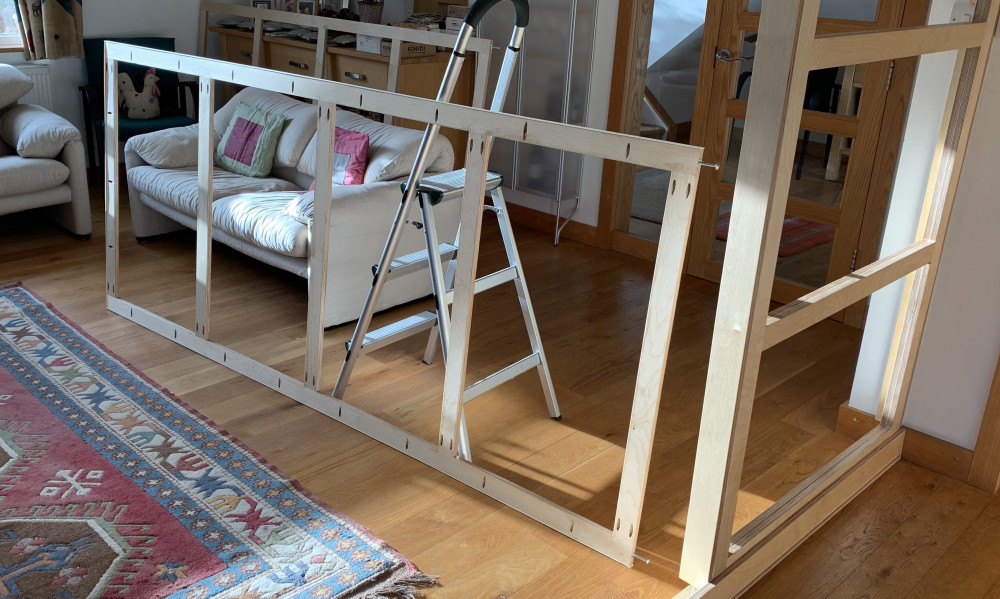 ---
The first outer frame is prepared with 2 mm x 18 mm draught excluder tape, stuck to the plywood edges at the top and either side.
This first outer frame is wedged into position using the levellers, then I attached it to the wall and ceiling battens, using pocket hole screws.
The first intermediate post is sealed and attached to the first outer frame, again with pocket hole screws.
The second outer frame is sealed and attached to the other side of the post, to create a T-joint, which immediately adds fantastic strength and rigidity to the screen structure.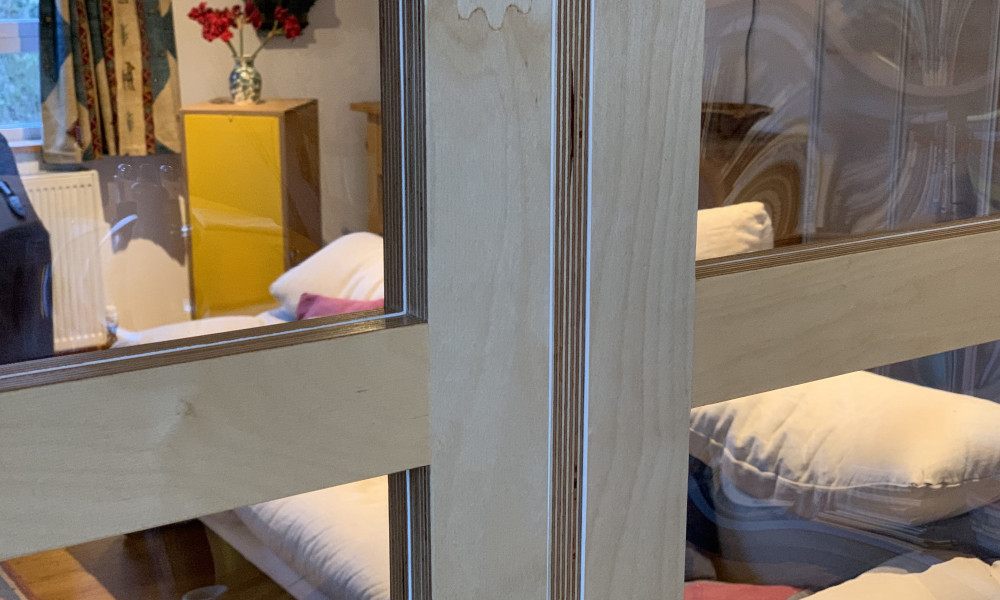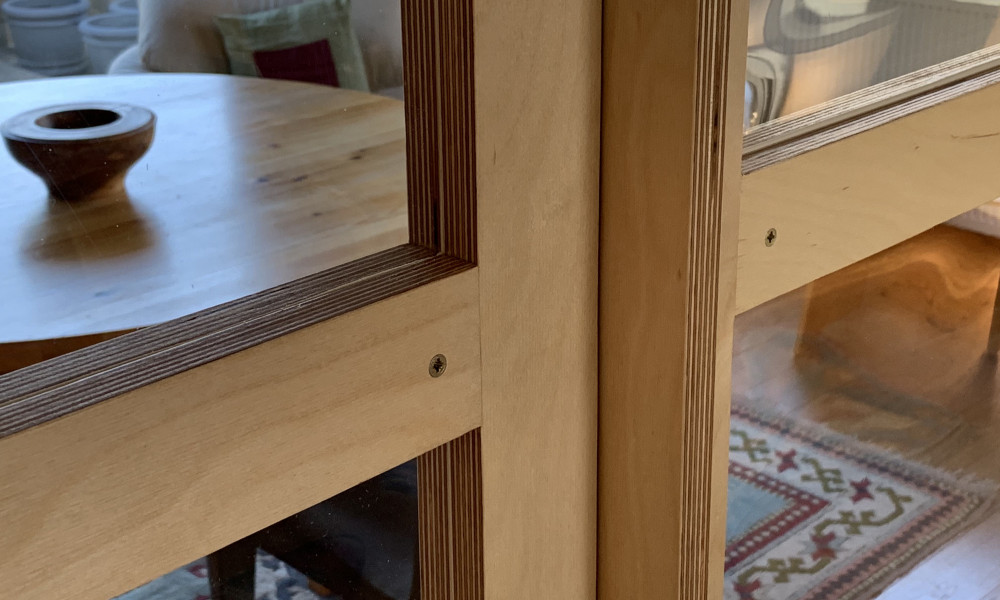 ---
The remaining two outer frames are then assembled with intermediate posts to complete the full room width.
I trimmed the width of the two 'skirts' to cover the gaps next to the right wall and floor battens, and fitted them flush to the edge of the battens with pocket screws, and then with countersunk screws to cover the bottoms of the frames, both sealed with 18 mm x 2 mm tape.
The inside of the assembled frames were then prepared for the final stage, by taping all round each window opening with 2mm x 9 mm tape, stuck to the inner face, and with 2 mm x 18 mm tape stuck to the top and side plywood edges.
I cut whole sheets of the 0.6 mm plastic a few millimetres less than the frames' dimensions, and stuck these in position to the inside surface of the inner frames with double-sided tape.
Finally, each inner frame was positioned using the levelers, and screwed to the mating face of the outer frames, using countersunk woodscrews, compressing the sealing tape around each window, and completely hiding all the pocket holes on the outer frame.
My conclusions?
I dare not think too much about why I've written all this stuff, or whether it might have any value to anyone else. But I'd be really pleased if you've read this far (and if you let me know).
---